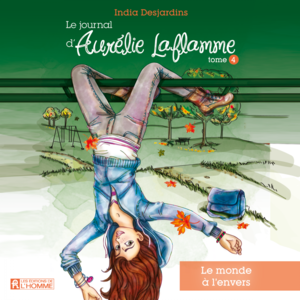 Un vent de changement souffle dans la vie d'Aurélie. Son école-privée-de-filles-avec-uniforme ayant fermé, elle se voit contrainte (après avoir perdu un féroce combat de roche-papier-ciseaux contre Kat) de fréquenter une école-publique-sans-uniforme-et-remplie-de-garçons. Aurélie est désormais aux prises chaque matin avec un problème dont elle n'avait jamais mesuré la portée auparavant : quoi porter ? (Horreur !) Après tout, elle doit être en possession de tous ses moyens pour affronter sa plus récente pire ennemie, qui ne sait pas qu'elle a acquis ce statut peu enviable : la nouvelle blonde de Nicolas (son ex). Quant à sa mère, elle semble souffrir d'une maladie étrange qui l'oblige à parler à la première personne du pluriel, et son chum François Blais (alias Satan réincarné) est de plus en plus envahissant et insupportable. Pendant que le climat de la planète se déchaîne, les émotions d'Aurélie menacent aussi d'exploser.
Book details
Publisher

Language

Publication date

Theme

Collection
About the author
India Desjardins
Passionnée d'écriture, India Desjardins aime varier les histoires, les styles et les personnages au gré de son inspiration. «Le journal d'Aurélie Laflamme», succès phénoménal de l'édition québécoise, s'est écoulé à plus de un million d'exemplaires dans la francophonie, a été traduit en cinq langues et a donné lieu à deux adaptations cinématographiques.
Reviews
No reviews have been written for this book.