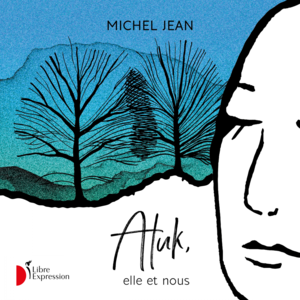 « Michel, l'indien, tu l'as en toi. »Elle a prononcé ces mots dans un murmure, comme une confidence. Comme on dit un secret. Jeannette, fille d'Almanda et de Thomas Siméon, parlait peu de ses origines innues. Pourtant, cette femme toujours vêtue et coiffée avec soin a vécu le quotidien des chasseurs de la forêt boréale jusqu'à sa rencontre avec celui qui allait transformer son existence.Dans Atuk, elle et nous, une grand-mère et son petit-fils remontent les sentiers de leurs parcours respectifs. Les chemins se croisent, tressant peu à peu le portrait d'un monde d'ombres et de lumière. Après le succès phénoménal de Kukum, qui raconte l'histoiredes arrière-grands-parents de Michel Jean, la réédition revisitée de Elle et nous, paru initialement en 2012, retrace la vie de sa grand-mère Jeannette.
Book details
Publisher

Language

Publication date

Page count

Theme
About the author
Michel Jean
Michel Jean est un chef d'antenne, un animateur et un reporter d'enquête primé et apprécié du public québécois. En mars 2017, il a été invité au Salon du livre de Paris, grâce au titre Amun, un recueil de nouvelles dont il a assuré la direction. Innu de Mashteuiatsh, il est l'auteur de huit livres. Il a aussi codirigé le recueil de nouvelles Pourquoi cours-tu comme ça ?. Son ouvrage Le vent en parle encore, paru en 2013, a été unanimement salué par la critique. Kukum, paru au Québec en 2019 et en France en 2020, est lauréat du Prix littéraire France-Québec et finaliste du prix littéraire Jacques Lacarrière.
Reviews
No reviews have been written for this book.